D Litter Puppies
Puppies born early afternoon May 19, 2013
Sophie had 7 puppies Sunday afternoon: 6 little girls and finally one little boy. 5 of the girls and the boy are wheaten (tan) like their mom, while one of the girls is a very solid black like her dad.
NEW: YouTube Puppy Video - 5 weeks old.
10 minutes of cuteness!
All puppies are healthy, active, and eating well. Mom is doing great.
If interested in one of these puppies, please contact:
buhunds@vali.org or eber_v@yahoo.com
Puppies will be available to good homes late July or early August.

Daily Weight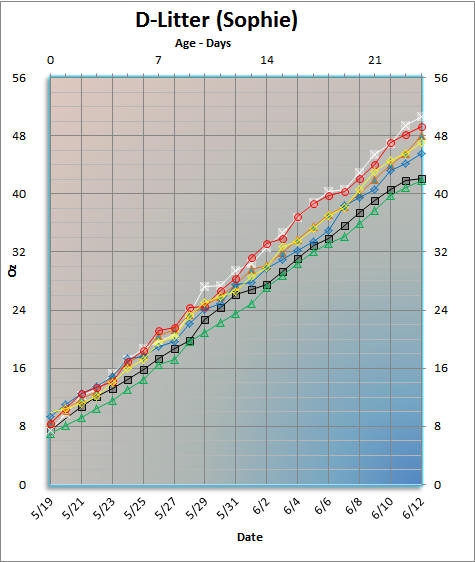 (Why plot the weight? Well mainly the graph looks awesome. But it also means I need to handle each puppy each and every day, which is good for them - and their Mom. Finally, it provides easy and early warning that puppies are healthy and growing well. For example, although little green is -little-, she's still gaining weight nicely, and I don't have to be too worried about her.)